With you every step of the way
We'll be with you every step of the way to help you out, answer any questions and simplify your tax issues.
We'll prepare fully compliant Federal, State and FICA tax returns and we'll also make sure that you get the maximum tax refund due – guaranteed.
Sprintax also has a really cool FAQ library featuring answers to the most common tax questions we get. We also have a Live Chat facility where you can communicate directly with a tax professional 24/7. To top it off, we offer a 'Do it all for me' option which provides an end-to-end income tax filing solution for you and your families.
File with confidence
We'll answer your questions in plain English with no jargon or complicated language to confuse you. We look after all the complex tax stuff so you can rest assured that you end up with a 100% compliant tax return.
The Sprintax Non-Resident Tax Preparation software:
Identifies if you are tax resident or tax non-resident in the US
Works out what international tax treaties are applicable to you
Chooses all relevant personal allowances, credits and income tax deductions for your personal circumstances
Selects the correct tax forms for you
Completes your US income tax return
Sends your correct, compliant tax return to you
Our promise to you
We file over 120,000 1040NR tax returns with the IRS every year, so it's safe to say that we know a thing or two about taxes.
We are so confident in our calculations and tax expertise that our system comes with a 100% no quibble guarantee – can't argue with that.
For security & peace of mind, choose Sprintax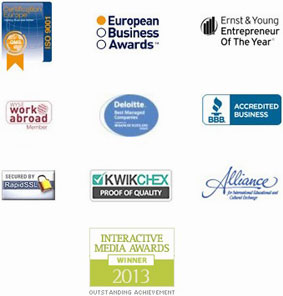 We're dedicated to protecting your personal and financial information. We test our site every day for security and use the most advanced security technology available. All security protection measures are overseen by a dedicated team to protect your privacy.
Our service excellence has been acknowledged by the Deloitte Best Managed Gold Standard Award, the Ernst & Young Entrepreneur of the Year Award and a European Business Award.
As well as this external recognition, you can have peace of mind that the quality management of our personal income tax filing and refund services is certified by the ISO 9001 quality mark!